Gutter Cleaning in
Charlottesville VA
We Give You Clean Gutters All-Year-Round So You Don't Have To Stress
Your Local rain Gutter Cleaning Professionals in Charlottesville
We're not your typical gutter cleaning company. If you're like most people who have had their gutters cleaned before, you probably hired someone on Craigslist or chose a lawn care company. The Craigslist guy probably wasn't insured or had the right equipment to do the job right. The lawn care company might have been ok but they just send their lawn mowing guys up on the roof during the slow season; they're not truly gutter cleaning professionals.
Click Any Box To Learn More
Our Charlottesville Gutter Cleaning Services
Choose The Pros for the best gutter cleaning service in Charlottesville
Our technicians are professional, friendly and they know what they're doing. They'll inspect your gutter system for leaks, cracks, damages, and disconnected gutters. We have every tool to reach every gutter – even the crazy high ones. Sometimes other companies will literally blow the leaves into the downspouts which makes them even more clogged! We guarantee your gutters will flow properly after we're finished.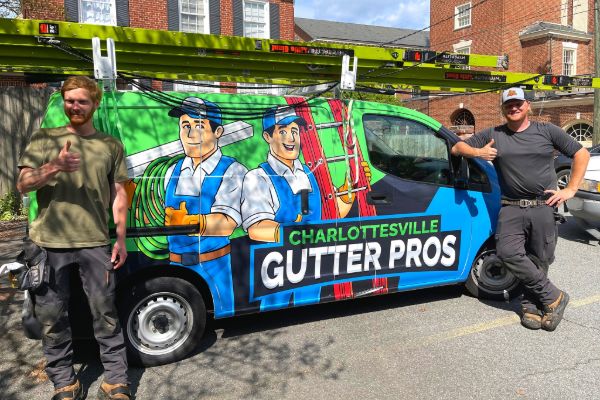 Our professional gutter cleaning
See The Dramatic Results Of Our Service
We promise you'll only get the best.
How to Get Gutter Services
Working With Us Couldn't Be Easier
Step #1
Request a Quote
Submit a Request on our site or speak to a customer service representative 434-422-4700 and we'll send you a quote within 24 hours.
What Your Neighbors Have Been Saying
Gutter Cleaning in Charlottesville VA
Big fan of the gutter pros gutter cleaning…they inspected and cleaned my gutters and then made repairs as necessary. They explained the process and kept me in the loop throughout. Highly recommend!
Gutter Cleaning in Charlottesville
By far the most professional and responsive of this service type. Will use gutter pros gutter cleaning next time, and will happily and heartily recommend them to anyone looking for gutter cleaning services!
Gutter Cleaning Charlottesville VA
The guys were great! Very professional, on time and within my budget. They also cleaned up after themselves. I definitely recommend Gutter Pros Gutter Cleaning and we'll be using them again.
Got Some Questions? We got you covered.
Ready To Have Perfectly Clean & Functioning Gutters?